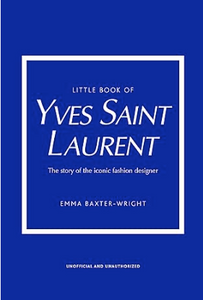 Little Book of Yves Saint Laurent is the pocket-sized and exquisitely illustrated story of 60 years of innovative fashion design.
An enigmatic, daring and astonishingly creative designer, Yves Saint Laurent is credited with the elevation of haute couture to fine art, turning the fashion show into a spectacle of breathtaking proportions, and revolutionizing the gendered norms of womenswear.
Describing Saint Laurent's beginnings in Algeria as a precocious boy making miniature garments from fabric scraps, Little Book of Yves Saint Laurent depicts the designer's ascent from fashion student to the right-hand of Christian Dior. Going on to found his own fashion house in 1961, Saint Laurent created his famous "le smoking" trouser suit, brought the leather jacket to the mainstream and astounded the fashion world with his blend of elegance and artistic drama.
Little Book of Yves Saint Laurent documents the talent of a visionary creative in a perfect gift for any lover of fashion.