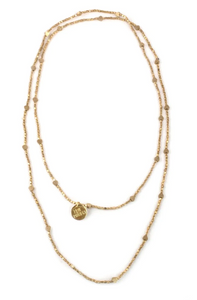 The literal translation of Gia is LOVE and Heart in Hindi, but it conveys much more than that.

In Sanskrit, Gia ( जीव ) is a deep word that signifies the essence of life, the spirit, and the soul that imparts life with vitality.
Layer the Gia Golden Heart Necklace to brighten your look. Bring vitality and good spirit to your life.
Handmade with LOVE by female artisans in India

Travel proof and waterproof

48" wrap for layer look 
Gold colored Brass